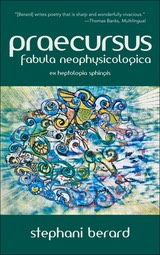 Stephanus lectoribus suis s.p.d. 
Heptologiae Sphingis secunda pars, cui est titulus Praecursus: Fabula Neophysiologica, iam conscripta est atque nunc ipsum a quibusdam doctis censoribus legitur … scilicet ut hi, si velint, laudes suas primae editioni addant. Aliquando hoc anno, forsan ante aestatem, divulgatum iri videtur. 
Ego nunc me paro ad tertiam fabulam, Eos: Carmen Methistoricum, conscribendam. Pro studio vestro gratias magnas ago. 
Valete! 
Praecursus finally done!
Dear Readers, 
Praecursus: Fabula Neophysiologica, the second part of the Sphinx Heptology, is currently being read by certain learned reviewers so that they will have the opportunity to add their recommendations to the first edition, should they choose to do so. It should be coming out this year, maybe before the summer. 
I'm now preparing to write Eos: Carmen Methistoricum. 
Many thanks for your interest. 
Stephanus