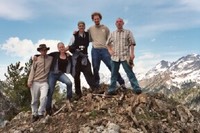 Who We Are and What We Do
We live in a beautiful and varied area where people spend a lot of time outside hiking in the mountains or climbing them, mountain-biking through forests, sailing, white-water rafting, fishing, bungee-jumping, etc., so it is not surprising that, of the four principal learning styles, we tend to focus primarily on the so-called "kinesthetic." We think it is extremely useful to support the language-learning process not only with practice but also by actually doing things in the language being learned. Students can learn much by practicing and using the language in a classroom setting, but by actually living the language that they are learning they can improve their speaking skills in a way that is hardly possible in the classroom. 
Those studying modern languages at universities, at least in the United States, as many know, usually spend their junior year abroad not only to study the new language but also to "live" it by using it in order to form friendships, get to know the culture, develop a relationship with a host family, and in general to do everything that they would do in their own country and their own language. However, since there is no country where Latin students can go to learn Latin this way, it is necessary for us to create Latin microcosms, so to speak, within which people can to some extent "live in Latin." Consequently, it seems as though in the future Latin conferences and workshops will have to be supplemented by all sorts of activity-based and mobile or ambulatory workshops simulating as much as possible the study-abroad experience.
Latin Days in Seattle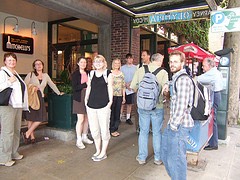 Latin speakers in our area are accustomed to meeting about four times during the academic year, between November and May, in order to converse in Latin. We use our spoken-Latin not just sitting around a table at lunch or drinking coffee or dining, but we also converse in Latin in a variety of places and engage in a variety of activities, since, just as in our annual spoken-Latin seminars, we find that most people can learn any language better and more quickly and more deeply if they practice the target language while doing things. So on our "Latin Days" we have visited museum exhibits, a public zoo and even toured a farm. We also marveled in Latin at a museum of science fiction, have gone for beautiful walks in public parks and done many other things, continually speaking Latin. We often prepare appropriate vocabulary lists before engaging in completely new activities. 
- Who attends?
People of all ages from schools and colleges and all walks of life who live within an approximate 200-mile radius of Seattle. Attendance ranges from 5 to 20 with an average of about 8.
- Do I need to be an advanced Latin speaker?
No--all levels are represented from beginners to advanced. Some people come mostly just to listen, at least for the first time.
- Where can I get more information?
Dates are posted in the sidebar on this web page. Use the Contact Us web form to join our Latin Days mailing list.