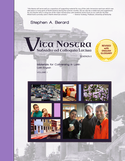 "Vita Nostra by Stephen Berard is a well-conceived and carefully composed subsidium for the teacher and student interested in conversational Latin. It consists of dialogues about various aspects of modern daily life accompanied by many exercises and vocabulary lists. This book is targeted at a specific segment of the Latin learning and teaching community — those teachers and students who are interested in ex-tempore Latin conversation to augment language acquisition. Vita Nostra will serve well as a repository of supporting material for any of the Latin immersion seminars which now take place in many parts of North America during the summer months. Vita Nostra can also be a viable tool and supplement for any teacher who is using one of the major introductory Latin textbook series (such as our Latin for the New Millennium) currently used in North American schools."
—Terence Tunberg, Professor, Department of Modern & Classical Languages, Literatures, & Cultures, University of Kentucky
---
"Vita Nostra is designed to help readers, writers, and especially Latin speakers navigate through their world while engaging with and using Latin as much as humanly possible. ... Vita Nostra is in fine company alongside classical, medieval, and neo-Latin lexica and grammar texts, and would be a valuable addition to any Latinist's bookshelf."
—David J. Hetrick, Loveland Classical Schools, Bryn Mawr Classical Review 2019.01.39
---
"Not only does this hyper-modern vocabulary allow for greater fluency in conversation, but it also allows us to learn Latin in contexts meaningful to our own experiences. It is incredibly challenging to modernize a language, and we are fortunate to have another book added to conversational resources."
—Skye Shirley, "Working to Modernize Latin Values, Along with Latin Vocabulary," In Medias Res, 2 Aug. 2018